FAIRE UN DON URGENT
QuebecNouvelles.com & ParoleJuste.com
Publicité par
Adpathway
Watch The X22 Report On Video
The Biden administration cannot explain their policy on how they are going to stop inflation. The people are seeing the truth, the plan is collapse the economy not help it. Fuel prices are moving up again. [JB] is helping subsidize foreign workers while Americans don't have jobs. Bitcoin expands. Durham is on the hunt and he is slowly squeezing the truth out of the [DS]. The people are seeing this and soon the first conviction will occur which will send a signal to the rest of the [DS]. The patriots are winning the information war. Nazi surrender in Ukraine, Russia is in control. When does a bird sing, as pressure builds those who are in the cross hairs will most likely try to make a deal. When does the your enemy expend ammunition, when they are winning or when they are weak and losing.
---
Economy
Nolte: Watch Two Simple Questions Unravel Karine Jean-Pierre, Biden's Press Secretary
Karine Jean-Pierre held her first briefing as America's new press secretary on Monday and melted down into a word blob over two fairly straightforward questions.
Last week, His Fraudulency Joe Biden fired off a ridiculous tweet that claimed (falsely) that raising corporate taxes reduces inflation. It was such a laughable non-sequitur, such a blatant piece of disinformation, that former Amazon CEO Jeff Bezos pointed and laughed at it.
Jean-Pierre's response was so painful to watch, you might want to break it into a few parts…
JEAN-PIERRE: Look, you know, we have talked about, uhm, we have talked this about this past year. Ah, about, uhm, making sure that the wealthiest among us are paying their fair share. Uhm, and that is important to do and, ah, that is something that, ah, you know, the president has been, you know, working on every day — when we talk about inflation and lowering costs. And so, it's very important, ah, that, ah, you know, as we're seeing costs rise, ah, and we're talking about how to, you know, ah, you know, build an America that's safe that's equal for everyone and doesn't leave anyone behind; that is an important part of that, as well.
DOOCY: But how does raising taxes on corporations lower the cost of gas, the cost of a used car, the cost of food for everyday Americans?
JEAN-PIERRE: Well, look, I think [reads briefing book] we encourage those who have done very well, especially those who care about climate change [which is a hoax] to support a fairer tax code that doesn't change — that doesn't charge manufacturers, workers, cops, builders a higher percentage of their earnings, that the most fortunate people in our nation, and not let that stand in the way of reducing energy costs and fighting this existential problem. If you think about that as an example. And to support basic collective bargaining rights, as well, right? That's also important. But look, it is — by not — without having a fairer tax code, which is what I'm talking about, then, all, everything, manufacturing workers, cops, you know, it's not fair for them to have to pay higher taxes then the folks who are, who are not paying taxes at all.
DOOCY: But what does that have to do with inflation? The president said 'you want to bring down inflation, let's make sure the wealthiest corporations pay their fair share.' Jeff Bezos came out and tweeted that the President's newly created Disinformation Board should review this tweet. Would you be okay with that?
Source: breitbart.com
Homebuilder Sentiment Slumps In May Amid "Growing Challenges" In Housing Market
The NAHB survey of homebuilder sentiment fell for the 5th straight month in May to its lowest since June 2020… but has a long way to go to catch down to homebuyer sentiment…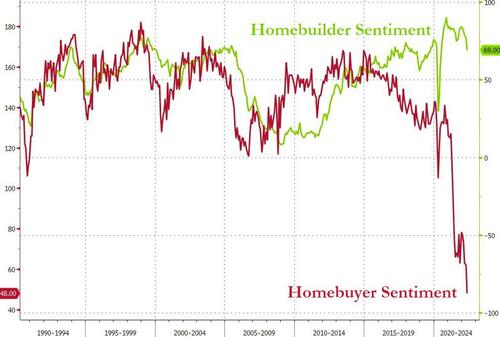 Source: Bloomberg
All 3 of the underlying indices tumbled:
Measure of present single family sales falls to 78
Future single family sales gauge fell to 63 vs 73
Prospective buyers traffic measure fell to 52 vs 61
Source: zerohedge.com
Yup, thanks. https://t.co/I4tcx35l3A pic.twitter.com/4JY3tDkGuh
— Ryan Saavedra (@RealSaavedra) May 17, 2022
Democrats just blocked my bill to lower gas prices by unleashing U.S. energy independence for a SIXTH time.
Why are they insistent on forcing Americans to choose between groceries and filling their gas tanks?
— Rep. Bruce Westerman (@RepWesterman) May 17, 2022
Biden Subsidizes Business with 35K Foreign Workers to Hire for U.S. Jobs as Nearly 12M Americans Remain Jobless
President Joe Biden is subsidizing businesses with 35,000 more foreign H-2B visa workers to hire for non-agricultural jobs in the United States, even as nearly 12 million Americans remain jobless.
Department of Homeland Security (DHS) Secretary Alejandro Mayorkas announced that the administration would begin allowing businesses to hire up to 35,000 additional foreign H-2B visa workers for nonagricultural jobs in construction, hospitality, and landscaping.
"This preemptive move by Mayorkas lets seasonal employers off the hook from recruiting Americans by offering better wages and working conditions," Robert Law with the Center for Immigration Studies wrote. "Instead, the federal government will subsidize bad business models or simply further enrich employers by giving them access to more cheap foreign workers than otherwise would be allowed."
Source: breitbart.com
Baby Formula Maker Abbott Reaches Deal with FDA to Reopen Michigan Plant – Could Take Two Months Before Product is Available on Shelves
After destroying the baby formula market, Biden's FDA Head says the firm that he shut down for three months can now open.
Abbot Laboratories said it reached a deal with the FDA to reopen its Michigan plant – but it could take two months before product hits the shelves.
In 25 states, 40-50% of baby formula is out of stock.
In 5 states over 50% of baby formula is out of stock.
In the meantime, the Biden Regime is happily supplying baby formula to illegal aliens and telling Americans to 'call their doctors' if they can't find baby formula.
Source: thegatewaypundit.com
Musk raises concerns over US economy
The country is probably in a recession that could last up to 18 months, he said
Source: rt.com
Russia's war on Ukraine is leading to an "apocalyptic" food shortage, Governor of the Bank of England Andrew Bailey told a committee of Parliament on Monday. Bailey said the main issue is that major global grain supplier Ukraine's crops cannot be exported due to the war. The head of the United Nations World Food Program warned "millions of people around the world will die" if Ukraine's Black Sea ports continue to be blockaded by Russia. Last week, Italian League party leader Matteo Salvini warned the looming food shortages due to the war could cause as many as 20 million people from Africa to migrate to Europe.
The Evening Standard reported on the "apocalyptic" warnings by the Bank of England and the U.N. (exceprt):
The Bank of England governor sounded an "apocalyptic" warning on Monday over looming food shortages caused by Vladimir Putin's invasion of Ukraine.
Source: thegatewaypundit.com
New data from Cambridge details a portrait for the global hash rate of bitcoin mining.
The U.S. is solidifying its position as the global leader with 37.84% of the global hash rate.
China surged to almost 22% following the mining ban from last year showing either a rise of covert operations or miners that have remained well-hidden throughout.
Source:bitcoinmagazine.com
Primer, a global payment infrastructure automation platform, now allows one-click checkout functions for bitcoin.
Primer partnered with a leading bitcoin payments infrastructure company, OpenNode, to bring this optionality worldwide.
Primer currently operates in 30 countries with a wide-range of supported payment features and OpenNode services 126 countries.
Primer, a global payment infrastructure provider, now allows merchants worldwide to accept bitcoin as payment through a 1-click checkout function through a partnership with OpenNode according to a press release.
Source: bitcoinmagazine.com
---
Political/Rights
A Democratic consulting firm linked to Hunter Biden registered with the Department of Justice as a foreign agent of Ukrainian energy company Burisma Holdings.
The founders of Blue Star Strategies said in filings under the Foreign Agents Registration Act that they arranged two meetings in 2016 between State Department officials and an attorney of Burisma owner Nikolai Zlochevsky. The founders of the firm, Sally Painter and Karen Tramontano, sought to assess the government's position towards Zlochevsky, who was under an international bribery investigation. They began working for Burisma in late 2015 after an introduction from Hunter Biden. Biden's work for the scandal-plagued Burisma drew scrutiny at the time because his father served as the United States' government's chief liaison to Ukraine.
The filing could mark a significant development in a federal investigation into Biden and his ' foreign business dealings. Federal prosecutors are reportedly probing Hunter Biden's work in Ukraine and China. Prosecutors have also reportedly investigated whether Painter and Tramontano, who served in the Clinton administration, violated foreign agent laws by failing to disclose their work for Burisma.
Source: freebeacon.com
courthouse at various times today.
Durham's team said they would call a handful of witnesses, including FBI Special Agents and attorney Marc Elias, who worked for Sussmann's firm and represented the Clinton Campaign. Via @RobLegare
— Catherine Herridge (@CBS_Herridge) May 17, 2022
First big news that I have seen.
We knew Joffe was an FBI source. FBI's cyber chief did not know that until recently.
The big news is that Joffe was "closed for cause" by the FBI, likely for some form of misconduct.
Wonder if we can learn the date Joffe was shutdown by FBI? pic.twitter.com/HSGoHaPyF8
— DawsonSField (@DawsonSField) May 17, 2022
Just revealed in the Sussmann trial that the judge is married to the lawyer of one of the two "lovers," Lisa Page, and Attorney General Merrick Garland presided over their wedding. Rigged!
---
Geopolitical/Police State
https://twitter.com/elonmusk/status/1526465624326782976?s=20
Project Veritas revealed another undercover video that shows Senior Engineer Siru Murugesan revealing the 'commie as f**k' censorship and suppression campaign that is to blame for silencing conservatives and rigging elections. Watch:
ce: beckernews.com
President Biden is rushing off to Buffalo,
there was another mass shooting in America on Sunday. It happened at a church in Laguna Woods in Orange County, California. It claimed the life of one person and wounded five others.
"The suspect in the Laguna Woods church shooting has been identified as David Chou, 68 years old, of Las Vegas, NV," the sheriff's department added. "He has been booked on one felony count of murder and five felony counts of attempted murder. More info to follow at todays press conference."The U.S. media have written vague headlines about the church shooting while noting that the incident was a "hate crime," but that does not do the atrocity justice.
The victims were Taiwanese and the incident sadly occurred during Asian American and Pacific Islander Heritage month. It thus seems like the news media would be intensely driven to publicize the story.
Except there is a problem with the narrative: The suspect isn't a 'white supremacist.' Nor is he one of the many African-American assailants who have been charged and convicted for attacking Asian-Americans.
The suspect is a Chinese-born man named David Wenwei Chou, a 68-year-old resident of Las Vegas. His motivation for the mass shooting was described in a hand-written note in Chinese left on a car dashboard, as was reported by the L.A. Times.
"David Wenwei Chou, 68, of Las Vegas, left notes in Chinese in his car stating he did not believe Taiwan should be independent from China, said Orange County Sheriff Don Barnes," the Times reported.
Source: beckernews.com
---
War
The US Senate passed legislation to send another $40 billion to Ukraine on Monday night.
Eleven Republican Senators broke with Mitch McConnell and voted "no" against the latest funding of Europe's most corrupt regime.
Here are the 11 Republican senators who voted against the latest aid to Ukraine.
Blackburn (R-TN)
Boozman (R-AR)
Braun (R-IN)
Crapo (R-ID)
Hagerty (R-TN)
Hawley (R-MO)
Lee (R-UT)
Lummis (R-WY)
Marshall (R-KS)
Paul (R-KY)
Tuberville (R-AL)
The Daily Mail reported:
Source: thegatewaypundit.com
Surrendered Ukrainian fighters leave Azovstal steel works
At least seven buses carrying surrendered Ukrainian fighters left the Azovstal steel works escorted by pro-Russian armed forces on Tuesday, a Reuters witness said.
Some of the Ukrainian fighters being transported did not appear to be wounded, the witness said.
Source: reuters.com
NY Times Blasted For Writing Ukrainian Fighters "Evacuated", Didn't Surrender At Azovstal
The New York Times is coming under heavy criticism for announcing the end of the lengthy Russian siege of the Azovstal steel plant in Mariupol with the below tweet and headline saying Ukraine ended its "combat mission" in Mariupol on Monday. Objectively… they were "evacuated" to Russian-controlled territory, in a Russian-controlled hospital, by Russian forces.
The "paper of record" managed to completely avoid the reality that some 300 Azov militants surrendered – instead opting to suggest that somehow Ukraine's forces decided to wind down their "combat mission". The headline also emphasized they were "being evacuated".
Source: zerohedge.com
Soaring bread prices spark protests and shop fires in Iran, IRNA reports
Soaring bread prices have triggered protests in Iran in which some shops were set on fire, prompting police to arrest scores of "provocateurs", the official IRNA news agency said on Friday.
The protests were triggered by a cut in government subsidies for imported wheat that caused price hikes as high as 300 percent for a variety of flour-based staples.
Iran's official inflation rate is around 40%, and some estimate it is over 50%. Almost half Iran's 82 million population are now below the poverty line.
The government plans to offer digital coupons in the next couple of months for limited amounts of bread at subsidised prices. The rest will be offered at market rates. Other food items will be added later.
Source: reuters.com
---
False Flags
REVEALED: BLM founder Patrisse Cullors paid her baby father $970,000 for 'creative services', her brother $840,000 for security, a fellow director $2.1m and reimbursed the organization $73,000 for a charter flight
Black Lives Matter spent millions on 'consulting services' in 2021
Newly released tax filings revealed that BLM paid $970K to co-founder Patrisse Cullors' baby daddy to help 'produce live events' and provide 'creative services'
The foundation also paid her brother $840K for security services
A consulting firm run by BLM board member Shalomyah Bowers was paid $2.1M for providing the organization with operational support
Bowers said the last BLM board approved the contract with his firm when he was not a board member
The filing also revealed that Cullors reimbursed BLM $73K for a charter flight and paid the foundation $390 for private use of its $6M Los Angeles mansion
Cullors resigned from BLM last year amid a wave of scrutiny surrounding the charity's finances
Controversy surrounding the organization's finances has elicited probes by at least two state attorneys general
Source: dailymail.co.uk
---
Q
4283
Q !!Hs1Jq13jV6 05/19/2020 12:44:41 ID: 76a615
8kun/qresearch: 9238824
When does your enemy expend ammunition?
Do you expend ammunition against a weak opponent?
Do you expend ammunition against a non_threat?
Critical thinking _media cluster bomb(s) [attacks] v POTUS
Critical thinking _media cluster bomb(s) [attacks] v Q [you]
Q